Consciousness is not magic!
This is my first blog on the study of consciousness, as part of a series of posts planned.
I feel very lucky, both to work as a research scientist at the Sackler Centre for Consciousness Science, and to have been given the chance to publish a book on consciousness for a general audience, where I describe the current scientific and medical aspects of the field, and outline my own views on the purpose of consciousness, and how our brains generate our experiences.
But hopefully this series of posts will give me a separate, less formal, more interactive (lots of comments, please!) outlet for my passion to communicate the science of consciousness.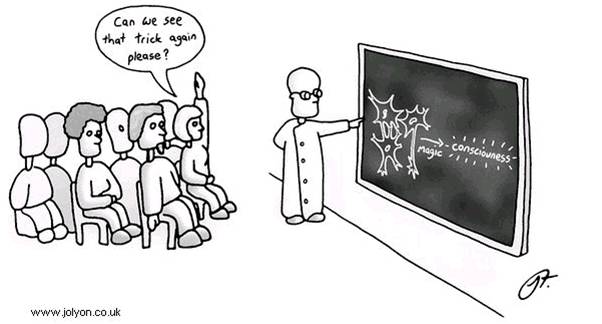 It is easy to view consciousness as a kind of magic, either in the name of religion and souls, or by how alien it at first appears to science. But many fields, such as the study of life many years ago, have their popular magical states eroded by careful scientific study.  I will be robustly arguing here that consciousness is in the midst of a similar revolution.
The investigation of our own awareness is a blossoming scientific field, where experiments are already illuminating many exciting details about this most intimate of scientific subjects.
Consciousness is a vitally important scientific field
Consciousness is in many ways the most important question remaining for science.
On a personal level, consciousness is where the meaning to life resides. All the moments that matter to us, that punctuate our lives, from falling in love to seeing our child's first smile, to that perfect holiday surrounded by snow-capped mountains, are obviously conscious events. If none of these events were conscious, if we weren't conscious to experience any of them, we'd hardly consider ourselves alive – at least not in any way that matters.
Whether I'm revelling in a glowing pleasure or even if I'm enduring a sharp sadness, I always sense that behind everything there is the privilege and passion of experience. Our consciousness is the essence of who we perceive ourselves to be. It is the citadel for our senses, the melting pot of thoughts, the welcoming home for every emotion that pricks or placates us. For us, consciousness simply is the currency of life.

Although some philosophers and scientists suspect that consciousness is a pointless side effect of thought, I believe the opposite, that our consciousness might indeed be responsible for our greatest intellectual achievements, both in the arts and sciences. Whether our creativity and insight originates in our unconscious mind or not (I believe that the role of the unconscious has been over-estimated here), at the very least, our consciousness is the conduit to inspect these gems of inspiration, and the driving force for turning them into reality.
The significance of laughter?
It is not surprising, therefore, that questions about consciousness lie at the heart of many of our most fundamental ethical debates, one of which is abortion and the right to life. This is an appropriate point for me to play my proud father card, and slip in a few gratuitously oversized pictures of my daughter, Lalana.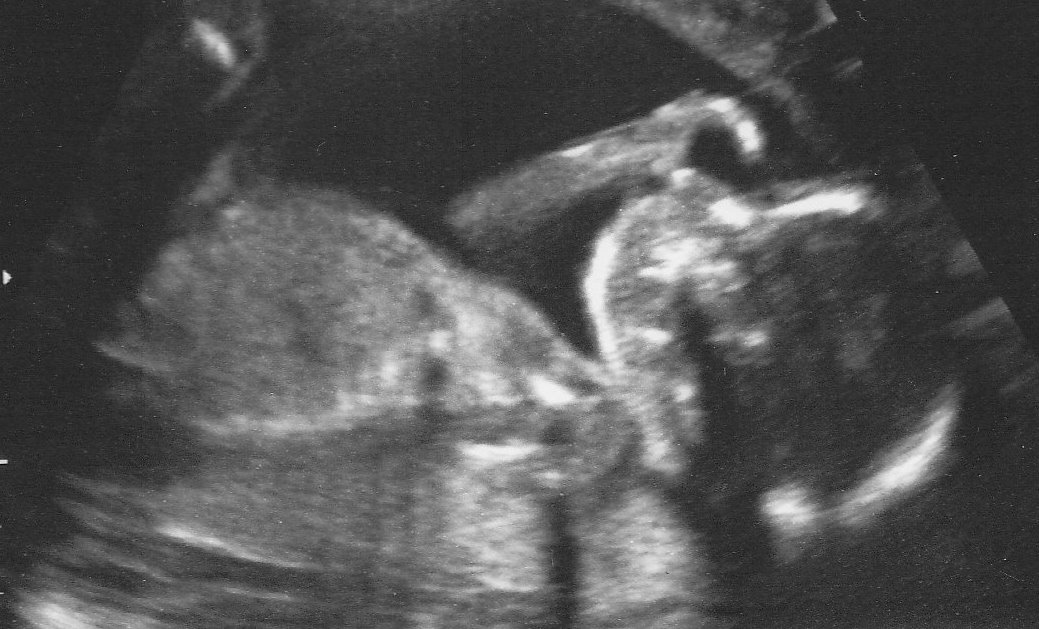 The image above was halfway through pregnancy, at 20 weeks. Soon after this scan, we could clearly feel her kicking, and towards the end of pregnancy, she seemed to have periods of greater activity in the evenings, would kick more if we gave her mother's stomach a little prod, and we as excited parents-to-be even speculated that all this excitability would lead to a lively child.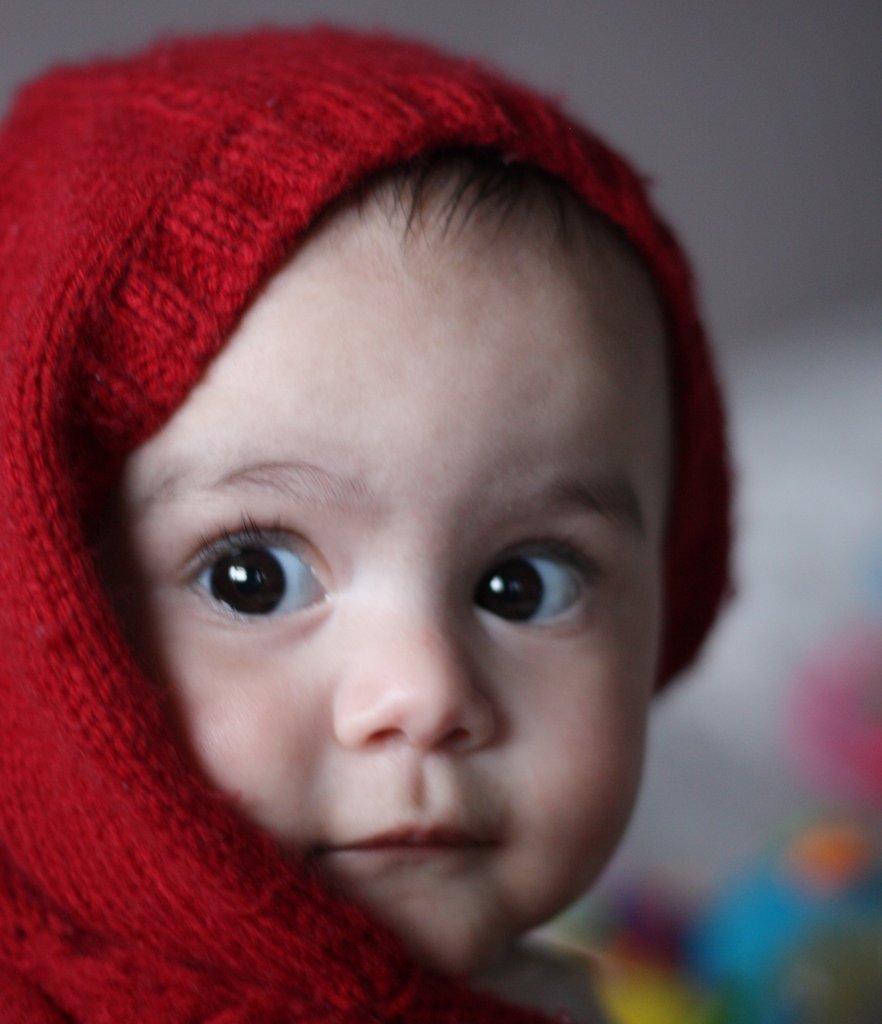 And here my daughter was 6 months old, kicking her feet almost as much as inside the womb, but now her limbs pump upwards almost frantically as she experiences her first tastes of such gourmet "solid" foods as mashed sweet potato or strawberry, and she is almost overwhelmed with excitement at the fantastic sensations on offer when boring milk is set aside. She smiles and laughs readily, and her laughing voice particularly, for a parent, brings with it a firm intuition that your child is aware.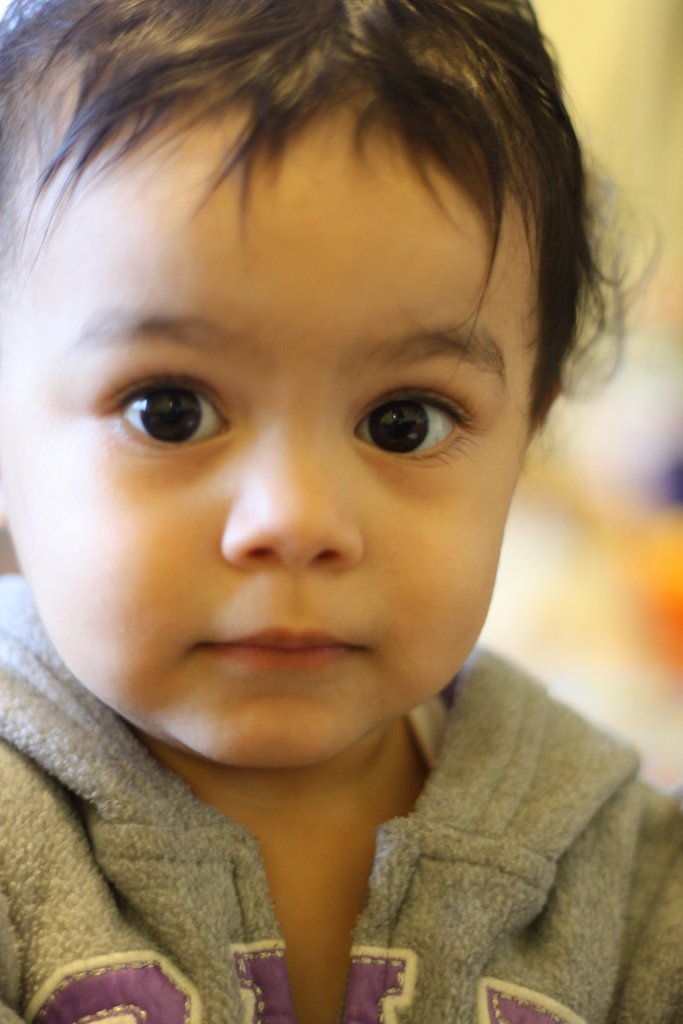 And finally this is a recent photo of her.  As a 20 month old toddler, Lalana now runs around everywhere and speaks 100 words or so, albeit very unclearly. She can convey events to us that happened days or weeks before, usually because she is still so excited about them! She can also store wishes for the future.  For instance, we might offhand tell her that when we get home, we'll play with making bubbles. Hours later, as soon as she enters the house, she'll run straight to the shelf with the bubble bottle, screaming "Bubbu!!!  Bubbu!!!" As this illustrates, she has a strong set of loves and hates, and her emotionally sensitive, passionate, cheeky, disturbingly stubborn personality is already very visible.
Having prided myself on my objectivity throughout my adult life, I've embarrassingly found that my daughter is the main exception to this aim: I've not only been taken aback by how fiercely I love her, but also by how proud I am of her and how quickly I distort the truth to make sure she seems exceptional in every way to my clouded eyes. But when I can step back from these views, I regularly ask myself at what point did she become conscious. Was it when she was still in the womb, kicking away? Was it when she first opened her eyes to the outside world on the day of her birth? Was it during her first fits of hysterics a few months later? Or was it even with her first words when she was well over a year later?
These aren't just personal wonderings, though. In the USA, people have been murdered for carrying out abortions. In many other countries, abortion is illegal, even if the woman has been raped. Although such positions are usually determined by religion, the related mindset is usually that there foetuses are already conscious, and even capable of feeling pain. But, in fact, the evidence to support this is extremely slim.
I'm not saying I agree with this view, but if it were the case that language was required for consciousness, as some neuroscientists and philosophers claim, then we don't need to worry about consciousness – or pain – in humans until children are one and a half years old. It is therefore imperative that science provides its influential input to discover what consciousness is and when it emerges as we develop, in order to help resolve this ethical debate.
The Twilight of Awareness
Another ethical area calling out for the science of consciousness to find answers is in those instances of patients who are so ill that it is unclear whether they even have the capacity for consciousness anymore. Many people can enter a coma state when particularly ill, as if they are in a deep sleep, never even opening their eyes. Their family members may still speak to the coma patients or hold his hand, as if this husband or father were still there, somewhere deep inside, secretly very conscious. But is this really the case?
A more tricky and controversial group of patients are those who are in a vegetative state. Such patients have sleep-wake cycles, so spend a good portion of each day with eyes awake.  Some vegetative state patients often reflexively smile or move their limbs, giving superficial hints that they are indeed aware of things. But is this just a cruel trick played by their more primitive brain areas, with no real consciousness occurring? It's notoriously difficult to tell at times.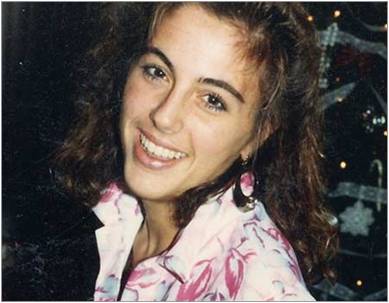 The picture on the left is of Terri Schiavo, who at this point was in her mid twenties. She was happily married, living in Florida, and was hoping soon to start a family.
Tragically this was not to be. Soon after this photo was taken, Terri suffered a massive cardiac arrest, and although the ambulance crew were eventually able to revive her, massive brain damage had already occurred.
Although she did emerge out of coma, this was only to enter a vegetative state, which she never recovered from.
Years later, her husband tried to get the courts to withdraw her feeding tube and let her die. He even had the backing of her doctors, but her parents were convinced she was still conscious, and opposed the move.
There followed one of the most famous, bitterly fought legal battles in history, which ended up going right to the top, with the then president, George W. Bush, signing emergency legislation – in his pyjamas in the middle of the night – partly to attempt to keep Terri alive.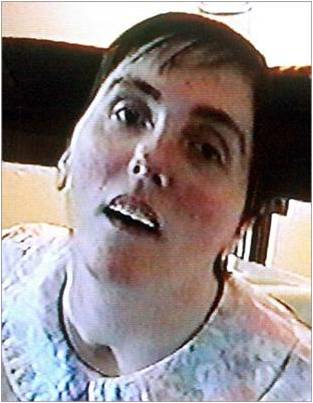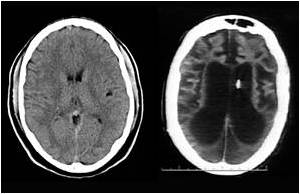 But even this couldn't stop the legal juggernaut from occurring, and in May 2005, Terri's feeding tube was indeed removed, and she died 13 days later. As these images show, not only was Terri very much a shadow of her former self, but her brain was very severely damaged. But in principle this doesn't mean she wasn't conscious. How can science help ascertain whether people like Terri are indeed still conscious, and by how much?  And can it also help heal such severe damage and return such people to full consciousness, if indeed awareness has been robbed from them?
Animal Torments?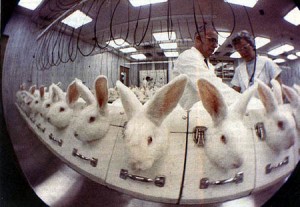 And what about consciousness in other animals? Every person on the planet, on average, consumes twice their weight in animal derived food each year. Much of this food is intensively farmed, with minimal considerations for the animal suffering.
Animal experimentation for research, and to test commercial products, could be causing the suffering of many millions of animals yearly.
If no animals except humans have consciousness, then you can't have suffering when you don't have consciousness, so there's no problem. But if even apparently mentally far simpler animals, such as poultry and fish, have a substantive awareness and significant capacity for suffering, then are we justified in inflicting all this pain and discomfort on them?
If science could come up with some means of testing consciousness in other animals, and perhaps also a way of gauging the extent of consciousness when it's found, then this would have a huge ethical impact on all spheres of the animal rights debate.
Iphones have rights too, you know!
When the first computers were invented in the 1940's, they were room sized monoliths, dependant on long snakes of punched paper for input, and could do little more than basic calculations. The pervasive, profound way that computers now impact on our lives must appear quite miraculous to any operator from those early days, who was somehow transported to the present.
Although I don't think any computers at present have any form of consciousness, many are excellent at giving the impression of conscious thought. If you have one of the new Iphones, you might have played with Siri, a pleasing female voice that you can speak to. You can ask her questions about the weather, if there are good local Chinese restaurants around, or you can get her to add an item to your calendar. Siri does such a good job of "understanding" its owner's wishes and requests, that it is easy to mistake it for a real person (there is an episode of the sitcom, The Big Bang Theory, where Raj basically falls in love with Siri!). In the interests of balance, I should also mention Google Translate, which started life as a laughably poor product, even when translating between very popular languages, such as Spanish and English.  However, if you've used Google Translate lately, you should have been incredibly impressed.  It can translate between over 50 languages, can guess the foreign language if you aren't sure, and usually does an extremely believable job of translating a section of text for you.
Computers are inching ever closer to human-like thought, and, intriguingly, are also converging on human neural architecture.  The "cloud" of multiple digital locations, capable both of parallel storage and processing equally describes how companies like Google manage most of their online products, and how human brains operate.
Indeed, scientists are exploiting the immense processing power of current computer chips (especially academic-oriented graphics processing units, which are a better match for brains than conventional chips) to make crude, but not that crude, copies of simpler animal brains. For instance, a colleague in my department, for his PhD, is trying to represent inside a PC a similar number of neurons, and activity and connections between them, as in a monkey brain.
I happen to believe that it is only a matter of time before we generate real consciousness in computer form, and if we assume that a mouse, say, is conscious, then I think so will computers be within 10 or so years. Human consciousness may take far longer to artificially manufacture, but this is merely an engineering issue, rather than something that is in principle impossible in any being that isn't a human with its biological brain. Most of us, I think, share this intuition at times.
Characters like Data in Star Trek, or the replicants in the film Bladerunner, are utterly believable as robots with human-like consciousness. And both these characters help us explore the difficult future ethical decisions we may face surrounding beings we manufacture, who may match us in awareness, intelligence and possibly also the capacity to suffer. One sensible position would be to somehow match the rights or status according to the level of consciousness achievable by these robots – but how could we assess this? Will science be able to come up with some consciousness meter that works not only on other animals, but even other robots as well?
Is consciousness even a physical thing?
Strangely, although many of us have no problem believing that Data is conscious, we carry conflicting beliefs that our own awareness is quite different to the biological computer in our own heads, even though many neuroscientists (including me) cold-heartedly claim that consciousness is entirely supported by our brains, and will disappear when we die.
I've had a surprising number of chats in the pub about consciousness, and many people just think you cannot reduce this staggering array of different, vibrant human potential experiences to a lump of spongy organic matter weighing about a kilogram. It's in some ways not surprising that this position is so pervasive – after all, almost all religions assume that our consciousness isn't even a physical thing, and once our physical bodies have perished, the mental part of us can live on.
Much of the study of philosophy, historically, was shouldered by philosophers, and many arguments have been given to support the religious view and proclaim the unique nature of consciousness. Rene Descartes, in the 17th century, proposed a series of "proofs" for why the mind was independent of the body and, by extension, the entire physical world. To Descartes, there was nothing in the physical world like consciousness, which is singularly subjective – no one else can ever truly know what I experience. Modern philosophers have extended this point, and have continued to make trouble for scientists like me, who assume that there is nothing else except for the physical stuff in the universe, so consciousness must also be physical in some way.
Other modern philosophers have argued that characters like Data can only ever be a fiction, and that it is impossible for mere computers to be conscious and to grasp meaning.
Getting a foothold
So with so much at stake ethically, with some of our everyday intuitions, and many philosophical arguments dating back centuries suggesting that consciousness is quite different from the normal physical features that science explores, is consciousness even the kind of topic that science should be studying? Many psychologists and neuroscientists, for these reasons, have shrunk from the topic, declaring it off limits for science.
This is all quite understandable in some ways, particularly because of the seemingly intimate, inevitably subjective nature of consciousness. This does give the field an impenetrable, admittedly magical atmosphere, and reflects the superficial impossibility of scientifically capturing consciousness.
But Francis Crick, one of the giants of 20th century science, with an untamed curiosity, and a first-rate intellect to accompany this, dissented from this meek view. He decided after a long, sparkling career in genetics, which included the discovery of the structure of DNA, to spend the last period of his life to cracking the science of consciousness. Although he sadly didn't live to see a clear solution to the problem, he made some critical progress.  More important than this, though, he helped make consciousness an acceptable field for science to study.  Now, two decades down the line, we have a very robust, active research community. My department is hosting the next conference meeting of the Association for the Scientific Study of Consciousness in the sunny English seaside town of Brighton and over 400 hundred papers have been submitted for this. I would imagine about 600 scientists and philosophers, all with a major research focus on consciousness, will attend (though everyone, including the general public, is welcome to register too, if anyone reading this fancies coming!).
So how does science get a foothold on such a difficult topic as consciousness?  Actually, it's not really as difficult as all that. Most of science breaks down to exploring some process by manipulating it as much as possible and observing the effects.  Consciousness is no different.
Although we might not be absolutely clear about what consciousness is, we are all (pretty much) agreed that we have as much of it as possible when fully awake, and little or none when in a coma, under general anaesthesia or at the deepest parts of sleep. So we can examine how the brain changes when we move from full wakeful consciousness to minimal consciousness. On a psychological level, we can also investigate what forms of thought and learning leave us when consciousness erodes, and what forms remain.
By the same token, we don't need to know the precise definition of consciousness to know that some stimuli are too faint for us consciously to detect, whereas others are clearly seen.  Similarly, we know that the experience of seeing a house is a very different experience to viewing a face.  So we can also examine how brain function changes when we flip between these experiential states. Again, we can also investigate how learning, attention and other kinds of thought change as consciousness changes, and build up a psychological picture of consciousness as well as a brain-based one.
In future blogs, I'll be going into the science of consciousness in far greater detail, but the next blog planned will be delving a little into the philosophy of consciousness, and especially how views like Descartes' that try to place consciousness outside of the physical world – and scientific investigation – are fundamentally flawed.