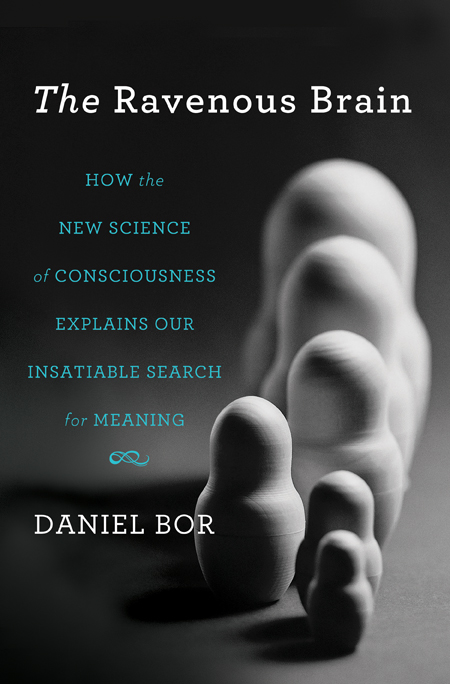 The Ravenous Brain
How the New Science of Consciousness
Explains Our Insatiable Search for Meaning
DANIEL BOR
FROM THE COVER:
Consciousness is our gateway to experience: It enables us to recognize Van Gogh's starry skies, be enraptured by Beethoven's Fifth, and stand in awe of a snowcapped mountain. Yet consciousness is subjective, personal, and famously difficult to examine: Philosophers have for centuries declared this mental entity so mysterious as to be impenetrable to science.
In The Ravenous Brain, neuroscientist Daniel Bor departs sharply from this historical view, and builds on the latest research to propose a new model for how consciousness works. Bor argues that this brain-based faculty evolved as an accelerated knowledge gathering tool. Consciousness is effectively an ideas factory—that choice mental space dedicated to innovation, a key component of which is the discovery of deep structures within the contents of our awareness.
This model explains our brains' ravenous appetite for information—and in particular, its constant search for patterns: Why, for instance, after all our physical needs have been met, do we recreationally solve crossword or Sudoku puzzles? Such behavior may appear biologically wasteful, but, according to Bor, this general need to search for structure can often yield immense evolutionary benefits—it led our ancestors to discover fire and farming, pushed modern society to forge ahead in science and technology, and guides each one of us so profoundly to understand and control the world around us. But, Bor argues, the sheer innovative power of human consciousness carries with it the heavy cost of mental fragility. Bor therefore discusses the medical implications of his theory of consciousness, and what it means for the origins and treatment of psychiatric ailments, including attention-deficit disorder, schizophrenia, manic depression, and autism. All mental illnesses, he argues, can be reformulated as disorders of consciousness—a perspective that opens up new avenues of treatment for alleviating mental suffering.
A controversial view of consciousness, The Ravenous Brain links cognition to creativity in an ingenious solution to one of science's biggest mysteries.
AWARDS/HONOURS:
Chosen as a best book of 2012 in the Wall Street Journal by Sam Kean, author of The Violinist's Thumb.
Book of the Week at the Times Higher Education magazine.
The September main selection at Scientific American Book Club.
Chosen as the second selection at the Book of the Month Club.
REVIEWS:
Wall Street Journal (Chosen as a best book of 2012 by Sam Kean, author of The Violinist's Thumb):
"Mr. Bor takes on the oldest, thorniest question in neuroscience—what is consciousness?—and delivers a masterly overview of everything scientists think they think right now."
New Scientist:
"Bor's engaging and knowledgeable prose, liberally sprinkled with personal vignettes and coupled with a knack for explaining complex concepts in everyday language, make this a book well worth reading."
Times Higher Education (book of the week):
"This is a well-written book… A very pleasurable neuroscience ride… If he inspires some labs to explicitly test the limits of consciousness, including chunking, The Ravenous Brain's theoretical claims have the potential to escape the popular science box and enter the real world of wet cognitive neuroscience. I hope it happens."
Nature:
"As scientific enterprises go, cracking consciousness is up there with deciphering dark matter. Neuroscientist Daniel Bor dives into the conundrum with relish… Intriguing arguments abound."
The Biologist:
"Fascinating insights on the science of human thought and awareness come thick and fast, both from Bor's original
reasoning and by his excellent debunking of previous thinking. A persuasive writer, Bor comes armed with plenty of robust studies from around the world… Not only does the book provide an enlightening view of our own consciousness, it explores some stunning evidence of self-awareness and other higher thought processes in animals, too. And as readers would expect from a book tackling such a compelling concept, there is the occasional awe-inspiring passage that suggests we are close to understanding the mystery of human experience."
The Atlantic or Brain Pickings:
"Bor offers a stimulating lens on that always fascinating, often uncomfortable, inevitably alluring intersection of science and philosophy where our understanding of who we are resides"
Scientific American Mind:
"Drawing on research published in the past 20 years, including some of his own, he presents a fresh view of consciousness… add[s] an intriguing perspective to our growing understanding of how the human mind works"
Chronicle of Higher Education weekly feature/review (subscription required):
[[to fill in when get copy of review]]
New York Journal of Books:
"Scientists have grappled with an understanding of the nature of consciousness for a long time, so any new thesis is often greeted with degree of skepticism. Dr. Bor, however, shows skill in explaining the complex subject of consciousness and its current theories in a lively and engaging manner. "
Zocalo Public Square:
"Bor breaks complex science—and big ideas—into easily digestible, often delightful, bite-sized morsels."
ScienceNews:
"Bor's knack for bolstering personal examples with laboratory studies makes this a thought-provoking read. His ideas are tantalizing."
Kirkus Reviews:
"[A] lively look at what research is revealing about consciousness and a view of some of the ethical implications of recent findings about the brain's 'ravenous appetite for wisdom.' . . . Bor keeps general readers in mind, making challenging subject matter entertaining by peppering his narrative with personal anecdotes, imaginative thought experiments and probing research studies. . . . An enthusiastic report from the front lines of cognitive science designed to pique the interest of nonscientists."
Publishers Weekly:
"Though others have capably presented the relationship between brain and mind, and the functions of various portions of the brain, Bor does it so effectively that the material remains fresh. . . . Bor balances neuroscience with comparative biology, and philosophy with psychology while writing in a fully engaging conversational style."
ADVANCE PRAISE:
John Duncan, Professor of Cognitive Neuroscience, Medical Research Council, Cambridge, and author of How Intelligence Happens
"In his presentation of the modern science of consciousness, Daniel Bor is luminous, charming and at the same time deep and original. He is that rare combination—a genuine scientist who knows his stuff and a writer in love with words."
Simon Baron-Cohen, Professor of Developmental Psychopathology, University of Cambridge, and author of The Science of Evil
"Daniel Bor takes on the most challenging of topics, the nature of conscious experience, bringing to bear his unique combination of personal motivation (from having witnessed the psychologically disabling effects of his father's stroke), his deep knowledge of philosophy, and his everyday experience as a cognitive neuroscientist. In so doing, he brings consciousness down to earth, taking it apart to make it scientifically tractable. He has provided a valuable service to those in the separate fields of philosophy and neuroscience by his highly readable integration of these fields."

Chris Frith, Emeritus Professor of Neuropsychology, Wellcome Centre for Neuroimaging, University College London, and author of Making up the Mind
"Reading books about the science of consciousness I am often left with the feeling that our mental life is some kind of unnecessary froth that arises by magic. This book is refreshingly different. Here, at last, consciousness is seen in the light of evolution and is treated as something that is intensely practical and useful."
Elaine Fox, Professor of Psychology, University of Essex, and author of Rainy Brain, Sunny Brain
"Weaving the personal and the scientific, The Ravenous Brain is a wonderful exposé of the science behind our consciousness."
Adrian Owen, Professor, The Brain and Mind Institute, University of Western Ontario
"Bor serves up the real science as effortlessly as he describes his own experiences and thoughts. If you've ever thought about consciousness, then you'll love this account of the 'hard problem' in all its guises. And if you've never thought about consciousness, then this is where you should start."
BOOK DETAILS:
THE RAVENOUS BRAIN is published by Basic Books, and is currently available in hardback or ebook formats at various places, including Amazon US, Canada, UK, and Barnes & Noble. There is also an audio book available (e.g. from Audible). It is also to be published in Russian, Italian, Turkish and Chinese.